Acqua Private Residences, Makati, Philippines, Condomominiums For Sale | real estate property for sale
Your ads will be inserted here by
Easy Plugin for AdSense.
Please go to the plugin admin page to
Paste your ad code OR
Suppress this ad slot.
Inspiration
Water is the bringer of life
Its fluidity invigorates, rejuvenates each and every thing it touches…
Its liquid caress bring peace, while simultaneously granin energy, vibrancy, activity, delight.
Water falls
A fusion of falling water's visual dance and its attendant auditory roar.
Creating a naturally moving work of art; eternall liguid descent that embraces beauty, power, fluidity and movement.
Water in all its forms is the basis of all creation.
As its falls like a celestial blessing from the heavens, pouring into awaiting branches of trees
With leaves open like the outspread arms of a longing embrace
Water gives birth to a perfect state of bliss
A PARADISE. AN EDEN.
Abundant, lush and well-watered throughout
Imagine transporting a majestic tropical rainforest into the heart of the metropolis. A masterpiece that dedicates an equivalent of two times its total land area to lush greenery, enchanting water features an abundance of amenities and open space. Conceived to replicate a marvelous symphony of tree canopy with rich dense foliage and planted next to a regenerating body of water. An oasis of serenity and solitude amidst the city's ever-quickening pace.
MASTER PLAN
A magnificent multi-tower masterpanned development on a 2.4-hectare prime property, rising right on the water at a point where two cities meet.
Acqua Private Residences follows nature's blueprint by injecting life into the surrounding landscape resulting in a lush tropical rainforest-infused design that brings nature's breathtaking water features and flourishing foliage into an urban location. Six towers lavish you with private uninterrupted views of dazzling Makati skyscrapers across the bridge, the vibrant city skyline to the North, or the tranquil water down below.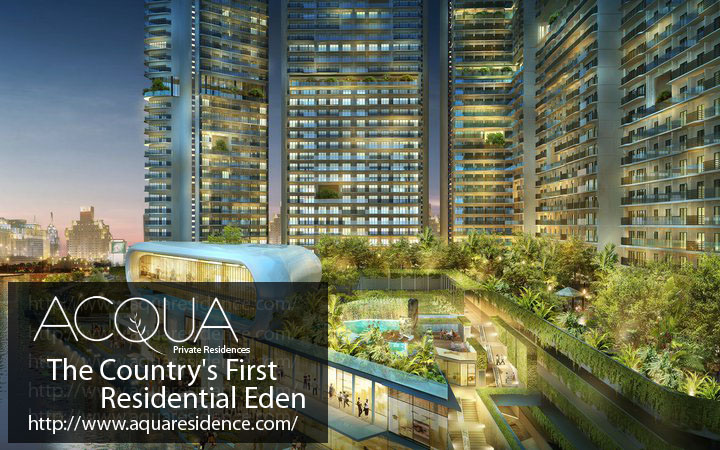 Location
Located across Rockwell Center, Acqua Privae Residences is accessible via a newly-constructed bridge that traverses the historic Pasig River. This provides a direct link to this majestic new address allowing residents the advantage of being situated right at the meeting point of two cities: Mandaluyong, the undisputed mecca for the country's biggest and most popular shopping malls, and Makati city, the Philippines' epicenter for finance and social activity.
Acqua is also accessible from EDSA-Guadalupe on the right, and in the opposite direction through Coronado. The Pasig Ferry-Hulo station is walking distance from the development and serves as an alternative transport route all the way to the city of Manila. Plans are also under way for Acqua's own private rivers shutle to traverse the river onto the Makati side of the Pasig
The Location Map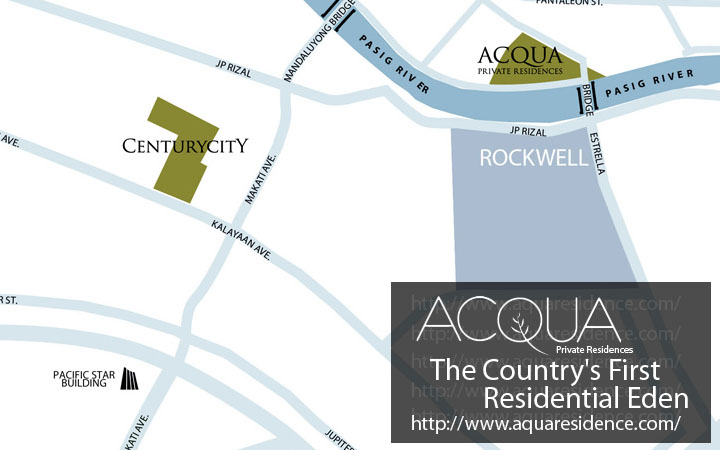 The Pebble
4 floors. 3000 sqm. 1 elevator ride away
"The Pebble" is Acqua's central amenity structure and the visual focal point of the entire development. It is a gleaming white, modern interpretation of a smooth river stone with a large cut in front providing an almost window-like vista and thre (3) iconic waterfalls on the facade that seemingly flow into the mighty river. It's the ideal venue where you can lounge, energize and plunge as it features fitness club facilities such as a state-of-the-art total health, wellness and fitness center, a 25-meter glass lap pool, a lagoon pool, a basketball/tennis court and juice bar.
Lounge
lobby
juice bar and cafe
lounge area
changing rooms
spa
hot and cold jacuzzi
Energize
cardio, weights and trx training
multi-purpose studios for dance, yoga and pilates
climbing wall
cycling and boxing studio
basketball / tennis court
Plunge
Your ads will be inserted here by
Easy Plugin for AdSense.
Please go to the plugin admin page to
Paste your ad code OR
Suppress this ad slot.
Riverwalk Promenade
At the ground floor of The Pebble, Acqua features the Riverwalk Promenade inspired by Singapore's Clarke Quay area. Acqua's residents get to enjoy delightful stretch of restaurants, bars, cafes, and designers stores from day 'til night. Arrive by river ferry or water shuttle from the Makati side, dine by the water, shop in hip young designer stores and enjoy sentational views of Rockwell and Makati, all at the first Riverwalk Promenade in the country.
The Six Towers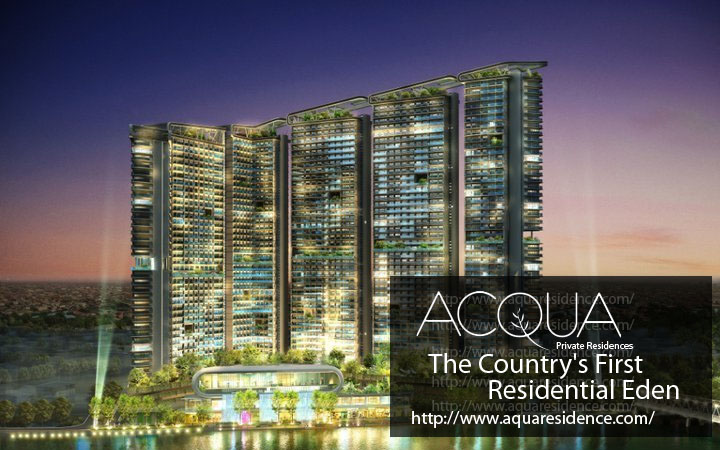 Six towers lavish you with the private, uninterrupted views of dazzling Makati skyscrapers across the bridge, the vibrant skyline to the North or the tranquil water down below.
Acqua's buildings are named after some of the most beautiful waterfalls in the world. The Sutherland tower, inspired by New Zealand's famous falls, Iguazu tower from Brazil, Detifoss tower from Iceland, Victoria tower from Zambia, Yosemite tower taking its name from the famous North American national park and its waterfalls.
Niagara Tower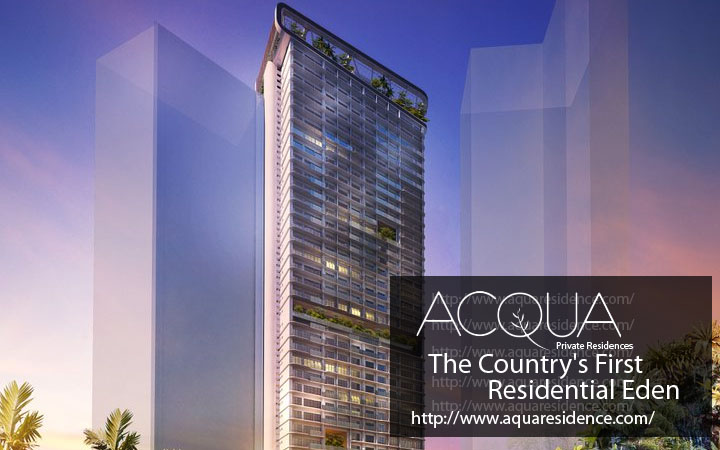 Straddling the international border between Canada and the US, Niagara falls remains one of the most photographed waterfalls in the world.
It is renowned for is magnificence and as a valuable source of hydroelectric power, managing the balance between form and function. This magnificent aesthetic brings inspiration to the Niagara Tower, the firs building set to rise at Acqua Private Residences. The Niagara Tower ascends 42 storeys high with around 400 units facing the Makati-Rockwell, Manila and Mandaluyong skylines.
Floor + Units Plans
At Acqua, unit configurations are carefully planed to suit your need for ample living and breathing space. There are 14 units to a floor with south units facing Rockwell-Makati and north units facing Manila/Mandaluyong. A typical floor houses six (6) 2 bedroom units and eight (8) 1 bedroom units. Certain units may be combined to accommodate larger space for growing families or young couples who are planning ahead.
1 Bedroom
2 Bedroom Corner Unit
2 Bedroom Unit With Private Garden
2 Bedroom Unit With Sky Garden
3 Bedroom Unit With Private Garden (2 Levels)
3 Bedroom Unit With Private Garden
Typical Floor Plan
Upper Sky Garden Floor Plan
Lower Sky Garden Floor Plan
Private Garden Floor Plan
acqua
Interiors
Retire to interiors you will never tire of. Units are available in Standard and Fully-fitted with two (2) interior designs to choose from
Acqua Escape and Cosmo Sleek
Fully Fitted – Acqua Escape
Fully Fitted – Cosmo Sleek
Standard
Fully-fitted unit will cost an additional 8,000 pesos per square meter
Inspiration for Acqua:
acquainspire