FOR SALE: The Woodlands point, Tagaytay Highlands, Philippines – House and Lots
For the privileged few who expect nothing but the best, the log cabins of THE WOODLANDS POINT in Tagaytay Highlands offer a highly exclusive and distinctive resort community lifestyle in a one-of-a kind environment, meticulously planned and executed to provide an atmosphere of pure relaxation and comfort.
Overlooking towering mountain ridges and just above Fairway 15 of the Tagaytay Highlands golf course, far, far away from the maddening crowd and frenetic urban living, one is lord and master of all he surveys in his own rustic log cabin at The Woodlands Point.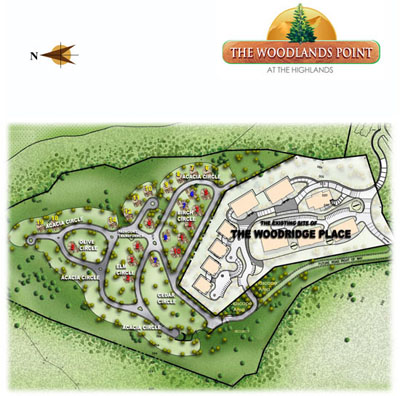 Set amidst hundreds of growing pine trees, and enveloped by Tagaytay's cool, misty weather, its innovative, secure, termite and mess-free modern log homes provide families with the ideal setting for their weekend getaways where they can be at peace with the world and be close to nature.
Details:
Community: The Highlands
Theme: Northern American Log Cabins
Type: Combination of Log & Concrete
Status: Construction of Log Cabin starts upon 20% DP
Lot Sizes: 294 – 310sqm.
Price Range: Php37M – 41M
Reservation Fee: Php250,000
Membership: NONE included
Title: CCT
Features & Amenities:
Landscaped with hundreds of pine trees to add to the authentic mountain top ambiance
24-hour security
Emergency power supply system
Underground utilities
State-of-the-art reticulation system for mess-free termite control and protection of logs
Project Team:
Owner/Developer: Highlands Prime, Inc.
Project Manager: D.A. ABCEDE & Associates
Architect/Master Planner: Recio+Casas Architects
Structural/Electrical Design: R.S. Ison + Associates
Mechanical/Sanitation & Plumbing Design: Isagani M. Martinez Consulting Engineers
SAMPLE COMPUTATION
Payment Terms until December 31, 2013
6 Birch Circle Model Unit – Unit Price Php 45, 263, 448.13  VAT In
Floor Area: 294.24 sqm
CASH:
3% Discount
20% Spot DP
80% over 12 months
INSTALLMENT 1:
25% over 4 months
45% over 20 months
30% Lump Sum
INSTALLMENT 2:
20% Spot DP
40% over 10 months
40% over 32 months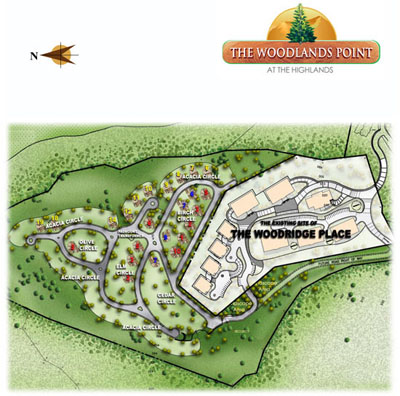 Lot Area
294.24 sqm m²
Developer
Highlands Prime, Inc.